Table of Contents
---
What Makes an Aesthetic Instagram Bio & What Are the Benefits?
When talking about Instagram bio, what comes up to your mind? Your profile picture? The texts that you use to describe yourself? Your link-in-bio?
Actually, all of the answers are true. Instagram bio is the first impression you make on anyone who comes across your account. Typically, it consists of the following elements:
profile picture
user name
bio text
link section
highlighted stories
The distinction between an Instagram bio and an AESTHETIC Instagram bio lies in the use of creative content and visual design to express your distinctive style and personality.
An aesthetic Instagram bio has several benefits. Firstly, it provides a more comprehensive view of your personality, not just through the text but also through the style, colors, and design you choose. Secondly, it's more memorable. Instead of the plain, original text, you can impress others with your creative and visually pleasing ways of introducing yourself.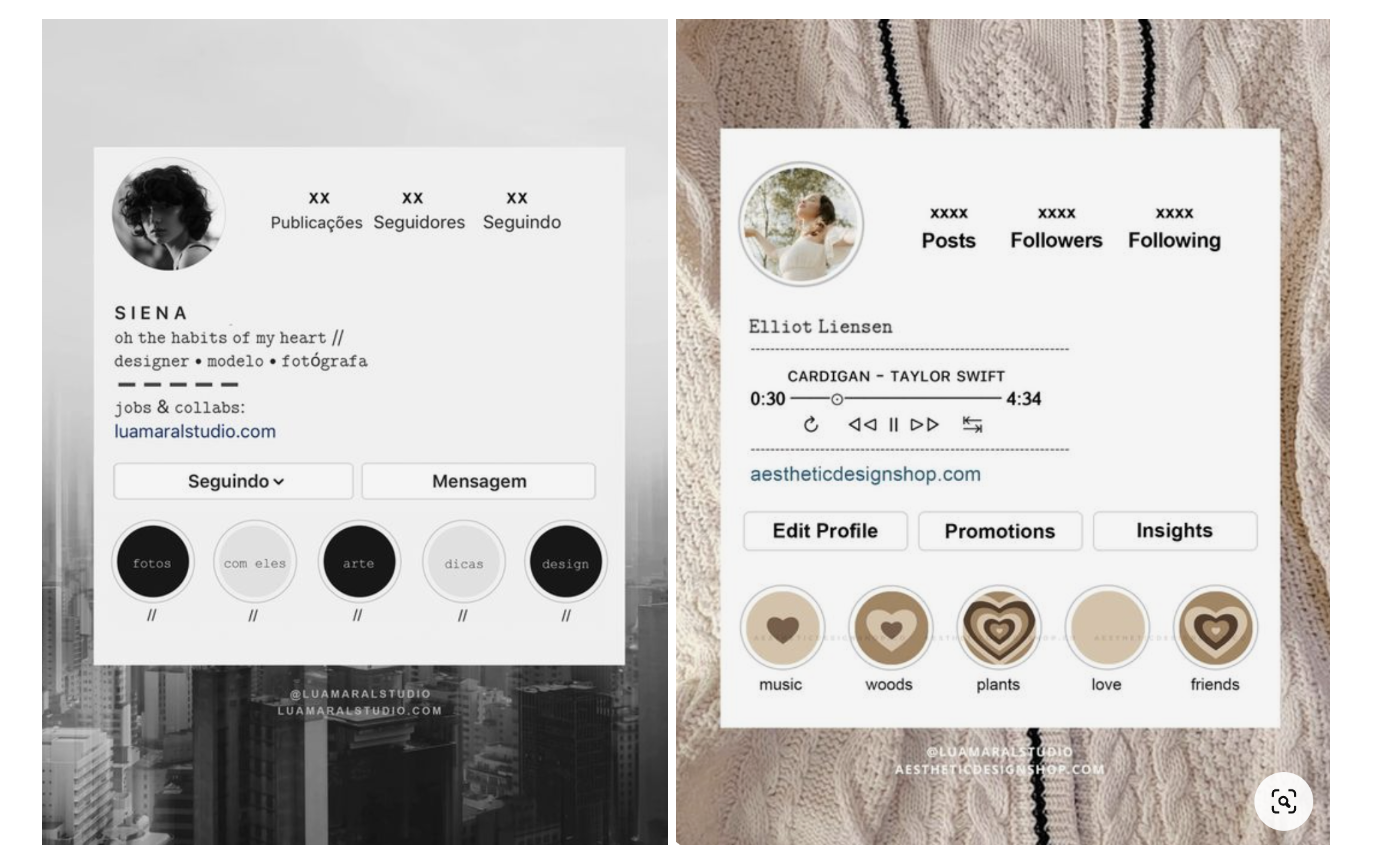 How To Craft the Perfect Aesthetic Instagram Bio
Now that you understand the importance of an aesthetic Instagram bio, we have compiled a list of the best tips and ideas for you to create a unique and eye-catching bio.
Profile Picture
It's important to use a real photo as your profile picture on Instagram, as people connect with a real face more than anything else. If you're not comfortable showing your face, you can use a profile illustration or avatar instead. This will still help you establish a personal connection with your audience and make your profile more approachable.
If you have a brand account, use your logo with your brand color, so that people can easily recognize and remember your brand identity.
User name
Your user name is different from your Instagram id, it's the name that people can actually understand and memorize.
Your Instagram username can be your real name, a nickname, or anything that you want to be known as on the platform.
However, you can also add more context to your profile by including your job position, the main topics you post about, or anything else that can grab people's attention and make them want to follow you.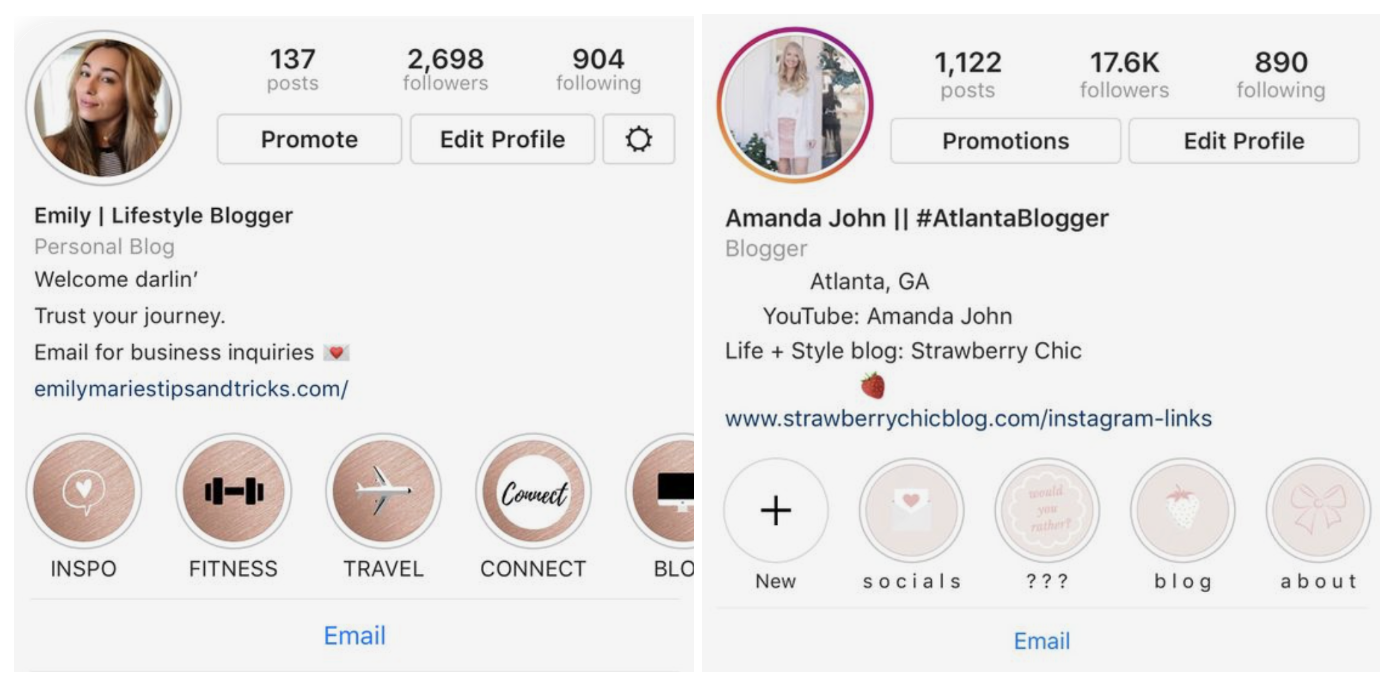 Bio text
Maximize the 150-word limit to share your story and offer value to your potential fans.
To make your bio stand out, use more than just plain text. Experiment with spaces, line breaks, emojis, symbols, hashtags, and fonts to showcase your personality and style. Check out the related resources in the last section of this article
Link section
We understand that it's impossible to mention everything in your Instagram bio due to the 150-word limit for bio text and only one link allowed.
As a result, this one-and-only bio link is crucial for your fans to know more about you or take desirable actions.
Most of the link-in-bio tools like Linktree and Taplink are link-based, Portaly, on the other hand, offers additional features to customize and visualize your links, making your page more personalized.
Highlighted stories
This is where you can collect stories about you and your brand which can attract people to follow you and find the information they might need.
For example, you can gather positive feedback, introduction about your services or products, memorable moments of your community events, etc.
The advice here would be to make a consistent style for the cover photos! It can be icons with the same style or color, or photos using the same filters so that your Instagram bio can align with your brand identity or your personality.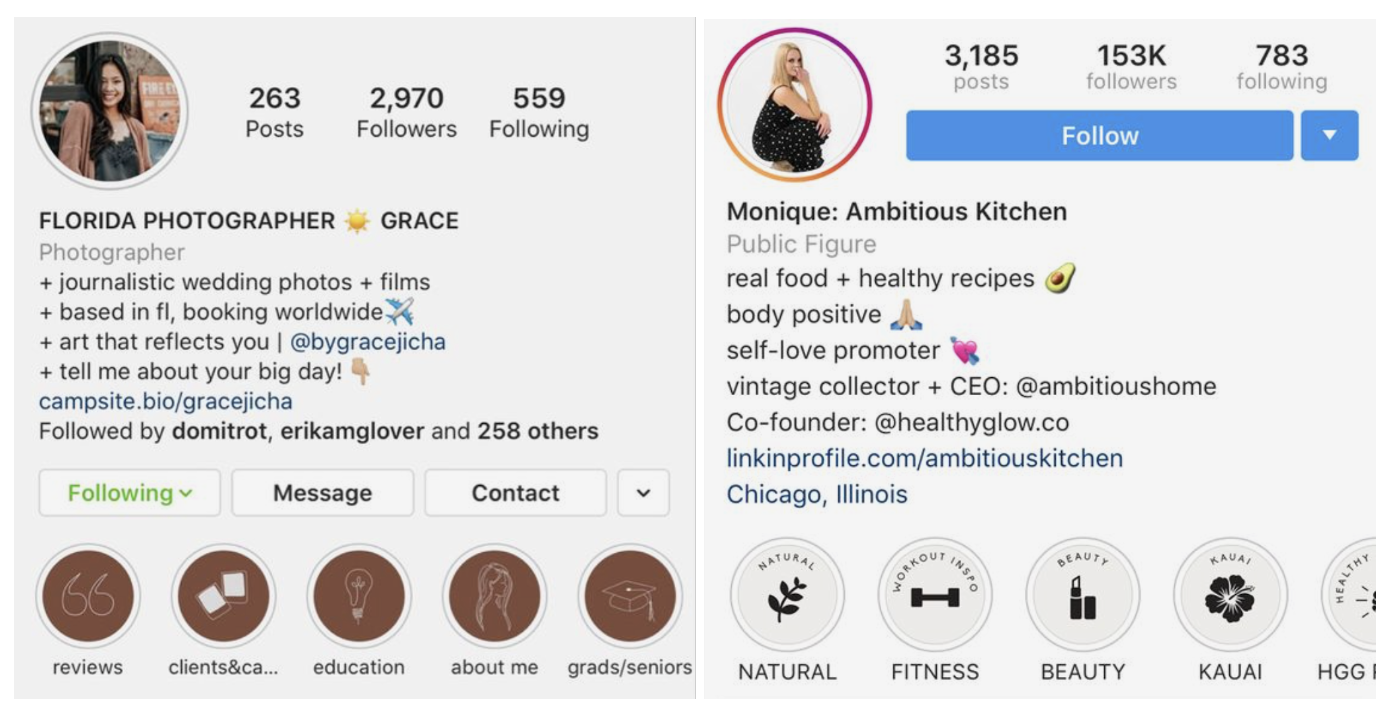 30 short quotes for a deep aesthetic bio
Another way to make your Instagram bio outstanding is by adding a short inspirational quote that can represent you or your brand.
A well-chosen quote can capture your personality and beliefs, and resonate with your followers. Here are some of our favorite quotes to inspire your creativity:
Short and catchy
Smile big. Laugh often.
Eat. Sleep. Create. Repeat.
Less care. Less stress.
Just breath
Follow the voice inside you.
I am what I post/eat/buy.
Don't wait for opportunities, create them.
Keep calm and find your inner peace.
Be yourself. You only live once.
In a world where you can be anything, be kind
Quotes from great minds
Beauty begins the moment you decide to be yourself. – Coco Chanel
Happiness is not something ready-made. It comes from your own actions. – Dalai Lama
Everything has beauty, but not everyone sees it. – Confucius
Let the beauty of what you love to be what you do. – Rumi
Believe you can and you're halfway there. – Theodore Roosevelt
Life is not a problem to be solved, but a reality to be experienced. – Søren Kierkegaard
The greatest glory in living lies not in never falling, but in rising every time we fall.- Nelson Mandela
What you get by achieving your goals is not as important as what you become by achieving your goals. – Zig Ziglar
Life is too important to be taken seriously. – Oscar Wilde
The only true wisdom is in knowing you know nothing. – Socrates
Something cool
I'm not weird, I'm just a limited edition.
Let's wander where the wifi is weak.
Stay trippy, little hippie.
Live life in full color.
Stay wild, moon child.
Life is too short to wear boring clothes.
Don't stop until you're proud.
Inhale the good shit, exhale the bullshit.
Chase your dreams, not people.
Good vibes only.
In this final section, we listed some popular useful tips and tools for you to create your distinct aesthetic Instagram bio.
Change the fonts
Changing your font can quickly grab your audience's attention, whether you choose to change it all or strategically highlight important information. However, make sure to choose a font that is not only stylish but also easy to read, and reflects your personal aesthetic.
Here's the tool you can use to easily change the font. Copy the font you like by typing your words in the font generator and selecting the one you like.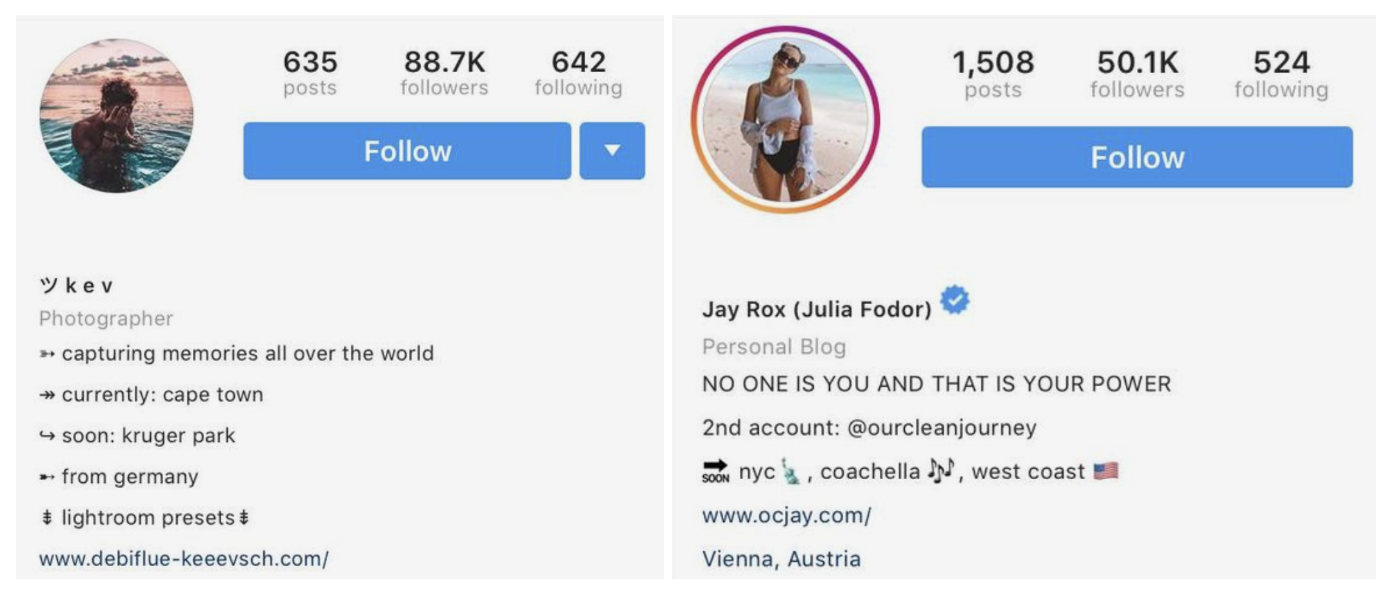 Use aesthetic symbol
Adding symbols is another way to increase the diversity of your Instagram bio. Symbols are different from emojis, you can use this webpage to copy the symbol that suits you.
You can definitely not include everything in your Instagram bio due to the limited format and word count, but you can invite people to click on your link-in-bio and take whatever actions you want them to do.
Big brands often put their website in the link section, but for the small brands or personal accounts without an official website, link-in-bio tools could be your best option.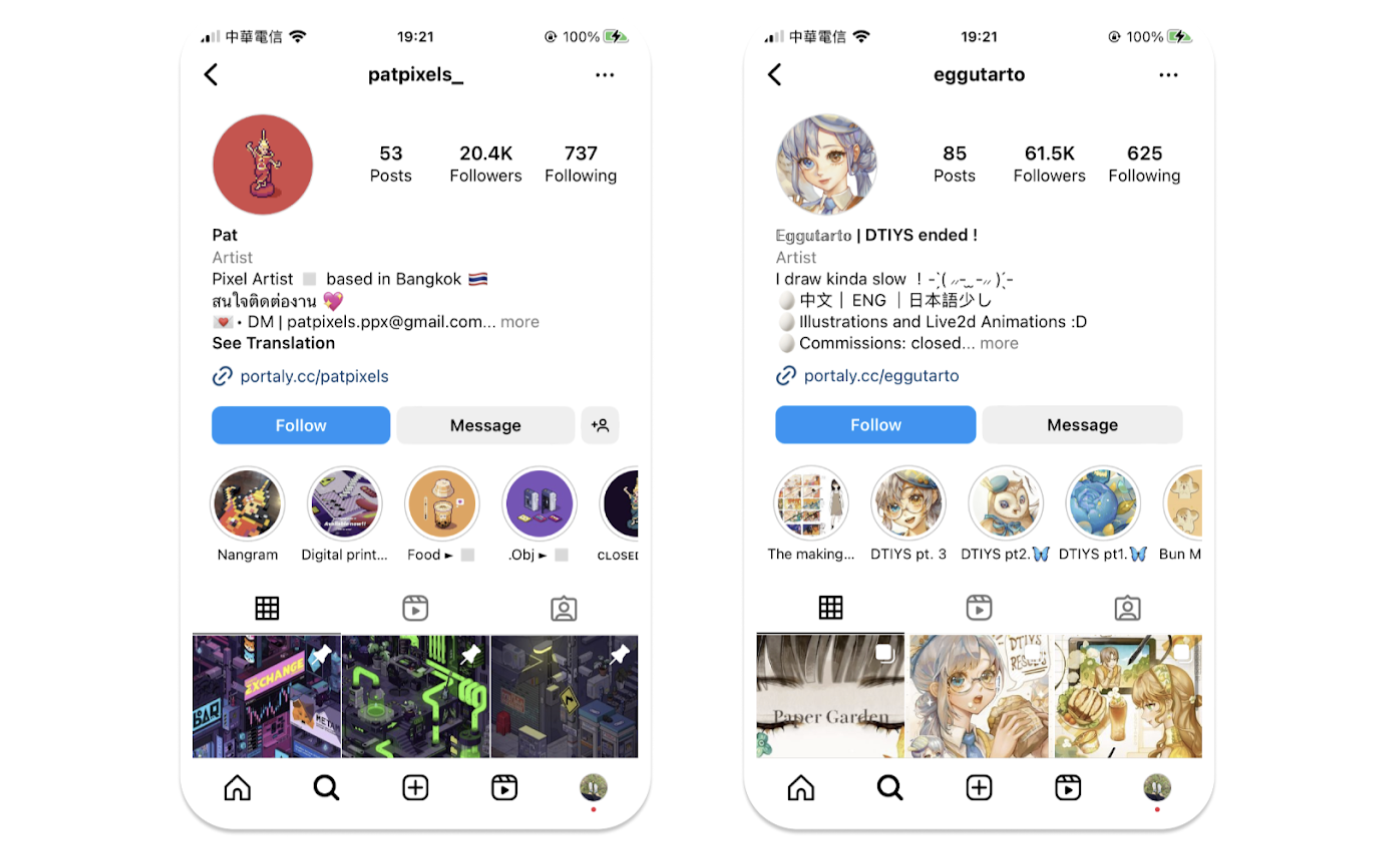 Portaly is our favorite tool to create a simple but unique bio page. With a full set of 30+ building blocks and integration tools, Portaly can easily visualize and customize a bio page within minutes.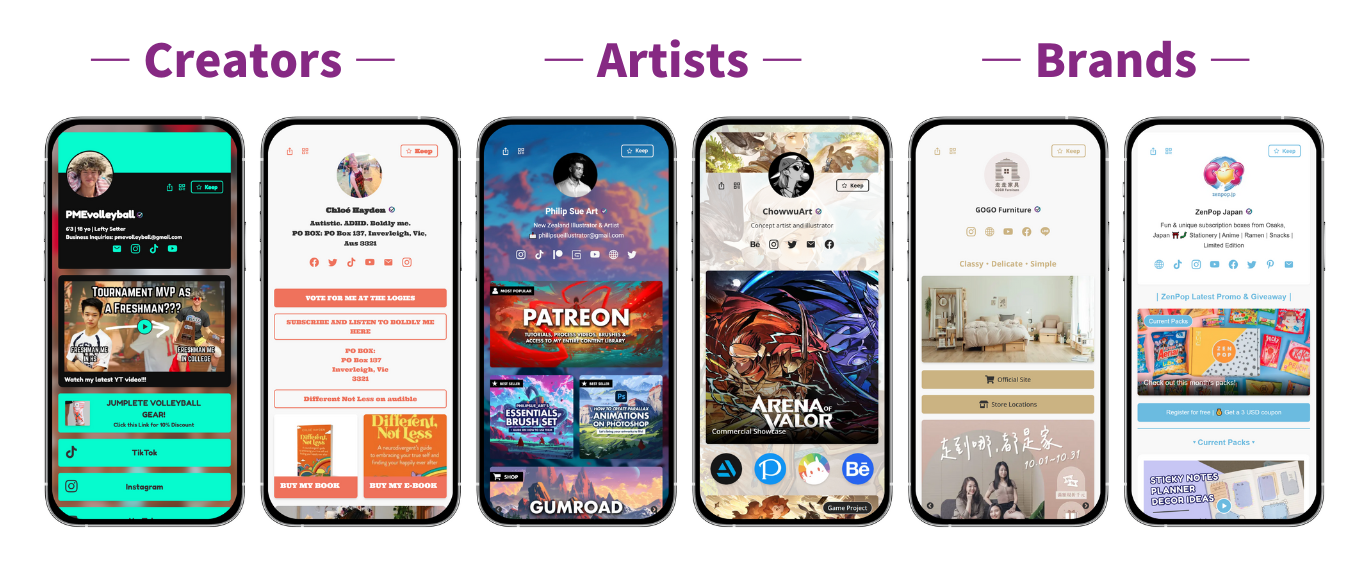 Engage with Portaly