As an innovative link-in-bio provider, Portaly is specially made for visual creators like you.
With 30+ building blocks and integration tools, you can easily visualize and customize a bio page within minutes. As a result, Portaly has attracted over 20k+ users worldwide during early access since late 2022.
In this article, we select three visual creators' pages from around the globe to show you how to use Portaly to maximize the impact of your graphic works. You can do so much more with Portaly, which is why many creators have made the choice to use our platform over others.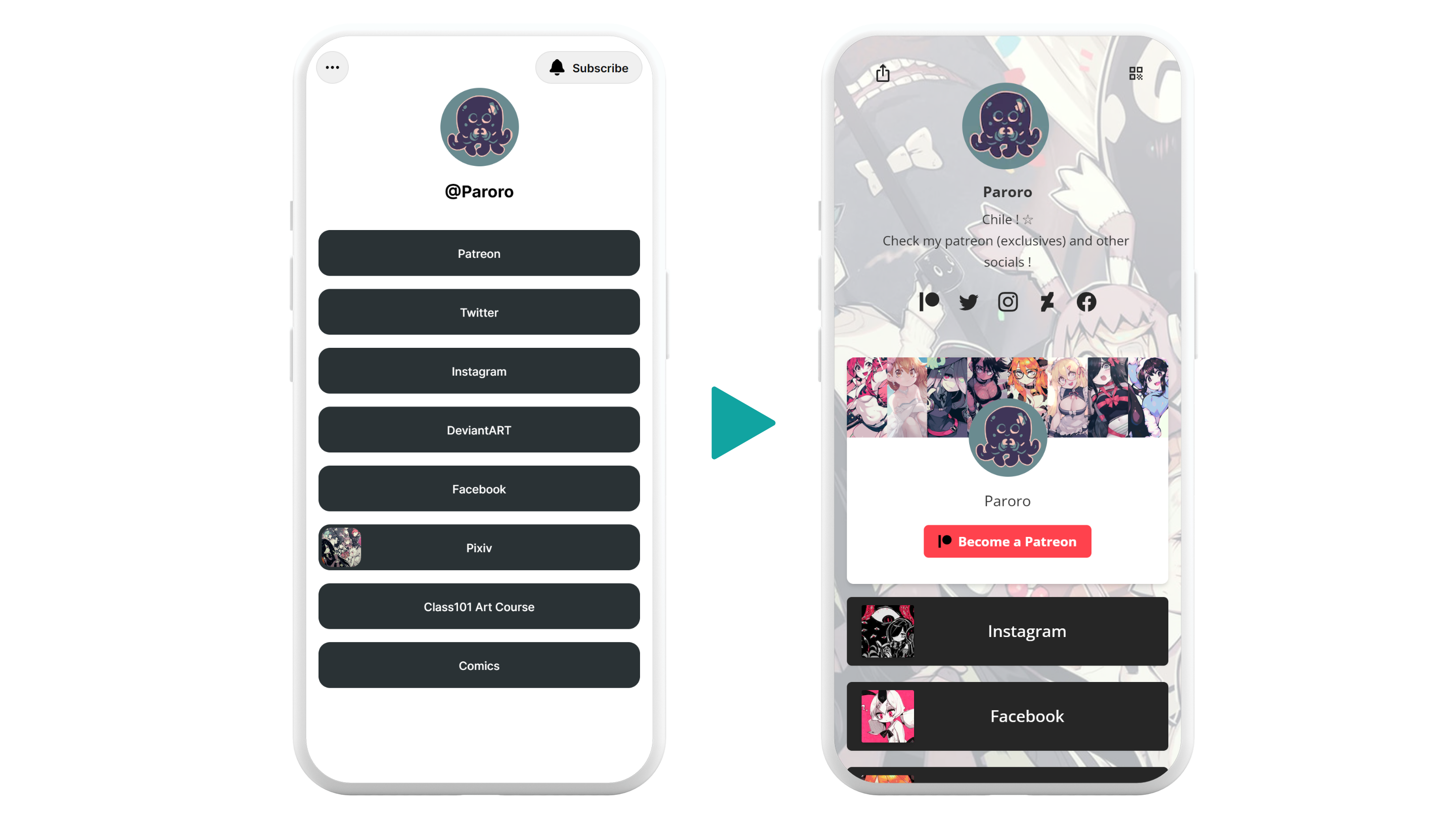 Table of Contents
---
Color-LES, also known as Kuru, is a comic artist from the Philippines who mainly creates Girls' Love stories. With almost 100K followers on Instagram, Karu became one of the representations in the queer community.
As you can see on Karu's page, there are plenty of ways to introduce yourself and at the same time exhibit your graphic works using diverse features on Portaly.
For example, you can turn links into images or create an open subpage to show your bio or sample illustrations with text and images just like Karu did.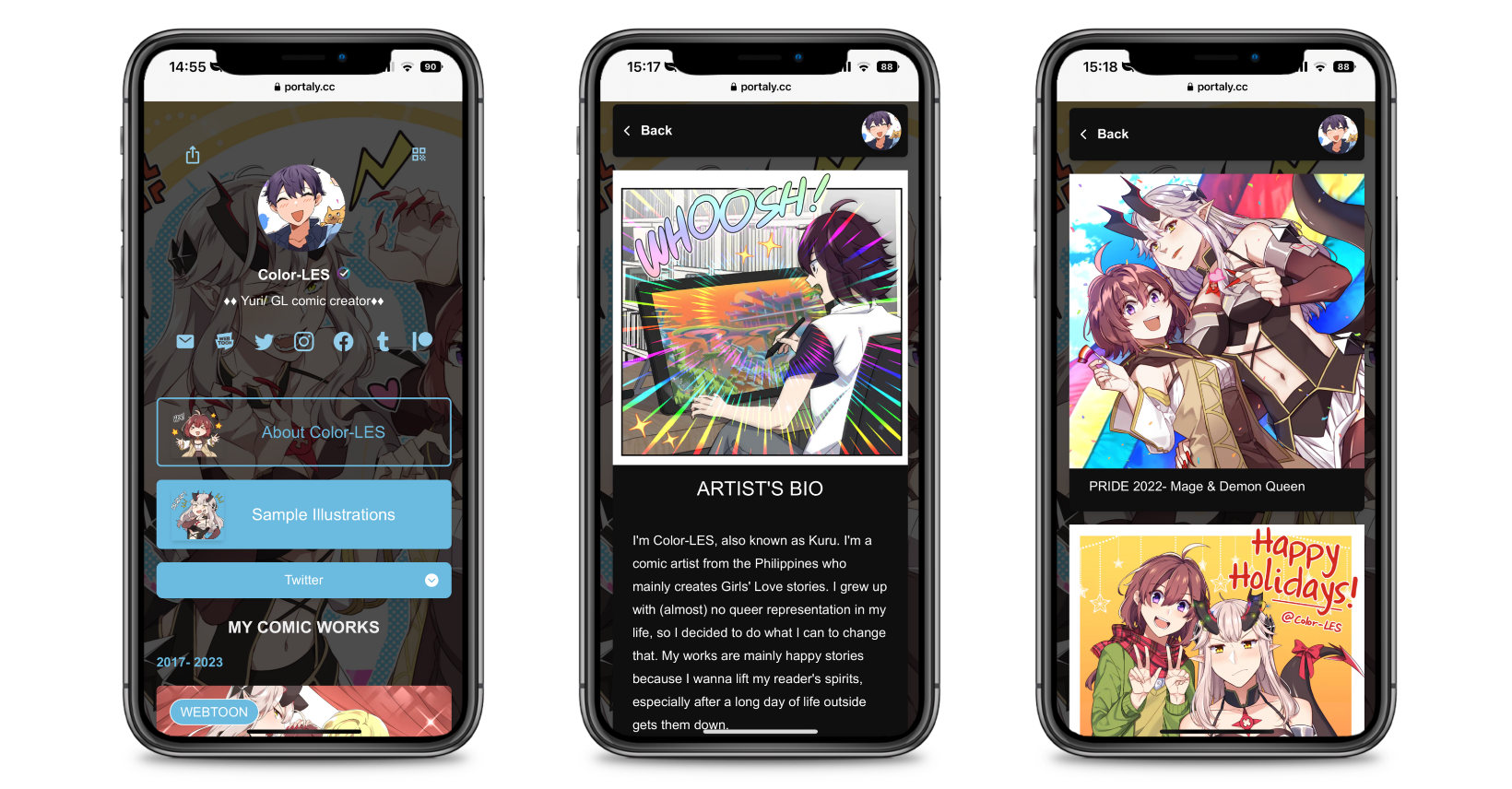 With integration tools, you can also integrate dozens of sites like Patreon, Gumroad, or Twitter with just a click. On Karu's page, she integrated Twitter and Buy Me a Coffee to collect financial support from her fans without leaving her page.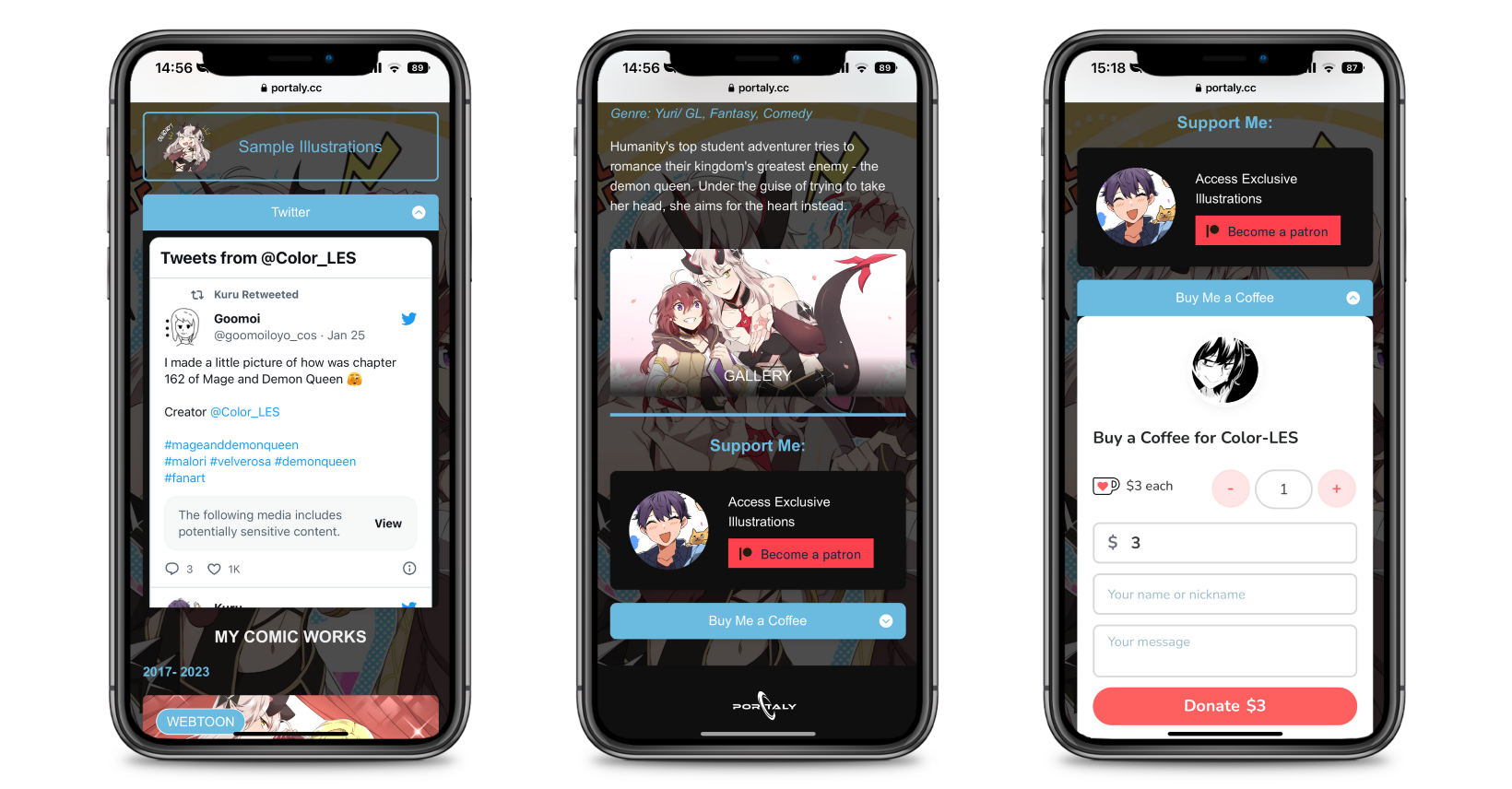 Paroro is an artist/ illustrator from Chile with nearly 200K followers on Instagram.
Moved from linktree to Poratly, Paroro made the most of the Portaly features to make her page more visualized and personalized.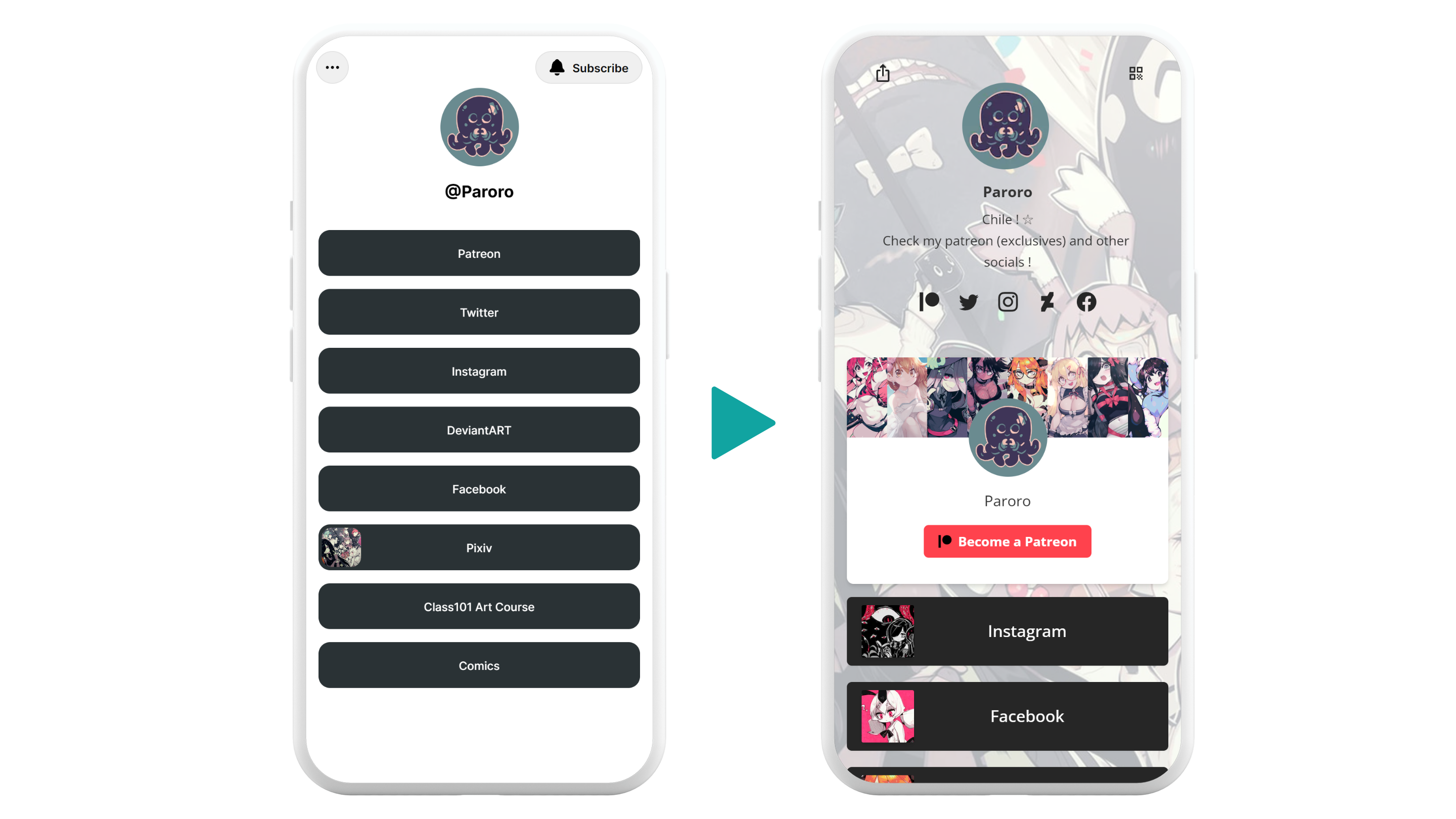 Portaly offers a unique advantage for visual creators, the ability to use your own images as background for free. Especially for visual creators, customizing your background changes everything!
In addition to the background, you can also visualize your links with different types of image blocks as Pororo did. It immediately adds flavors to your personal page.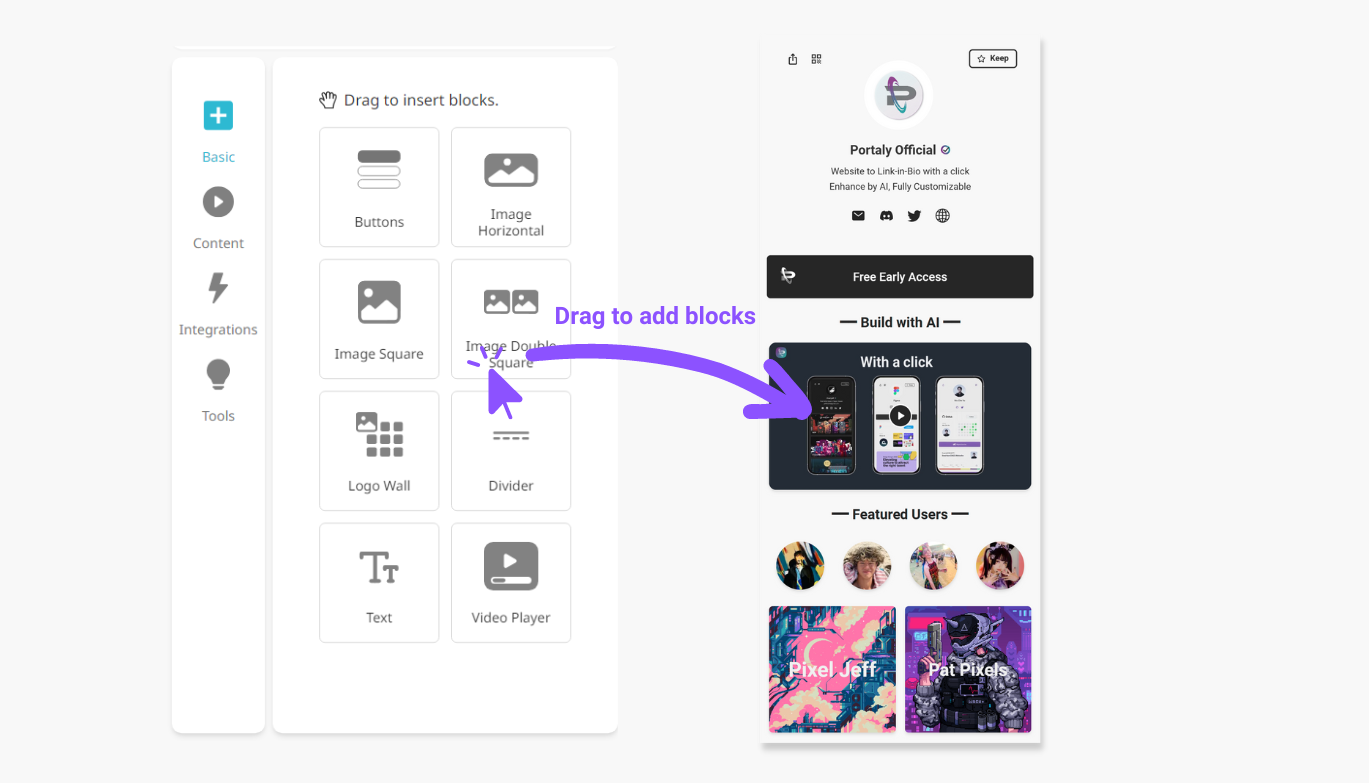 Regarding the content on your link-in-bio, Pororo not only emphasizes her social account links with image buttons but also highlights her course and products (comics) with image squares and horizontal blocks.
As you can see, with Portaly, you can unleash your creativity by building your customized bio page like playing with legos. Our intuitive tools enable you to bring your brand to life in just a matter of minutes.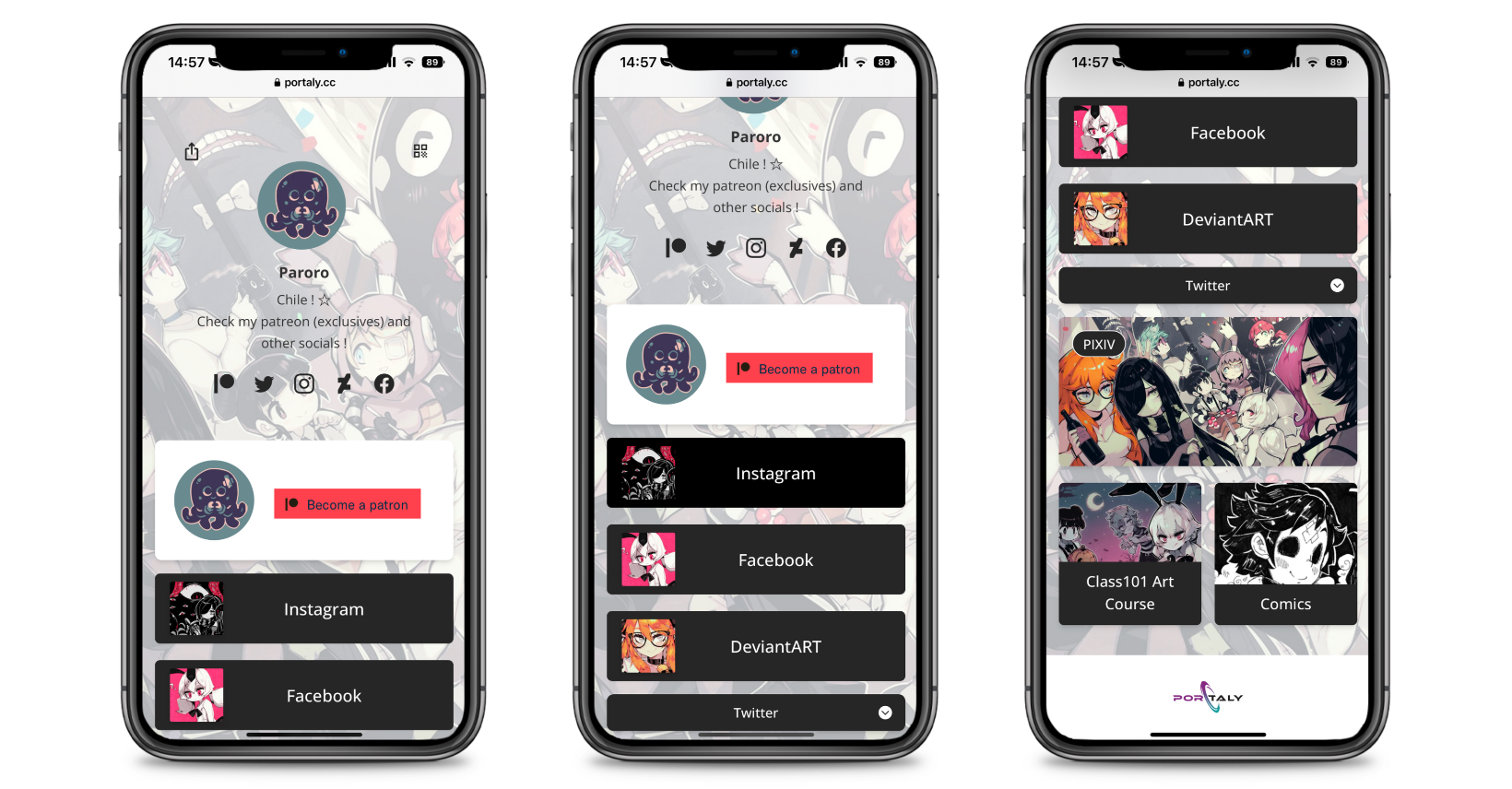 Naruysae is a freelance (fan) artist from France. With a bachelor's degree in computer science and a master's degree in education science, after covid-19, he officially became a freelance artist in March 2022.
The first thing that drew our attention is the announcement block on Naruysae's page. he cleverly and simply used the text and paragraph block to keep his fans updated.
He also combined an image carousel with an open subpage to showcase his most recent works so that he can exhibit his illustration first, and attract people to click into his subpage to read the intro about his works.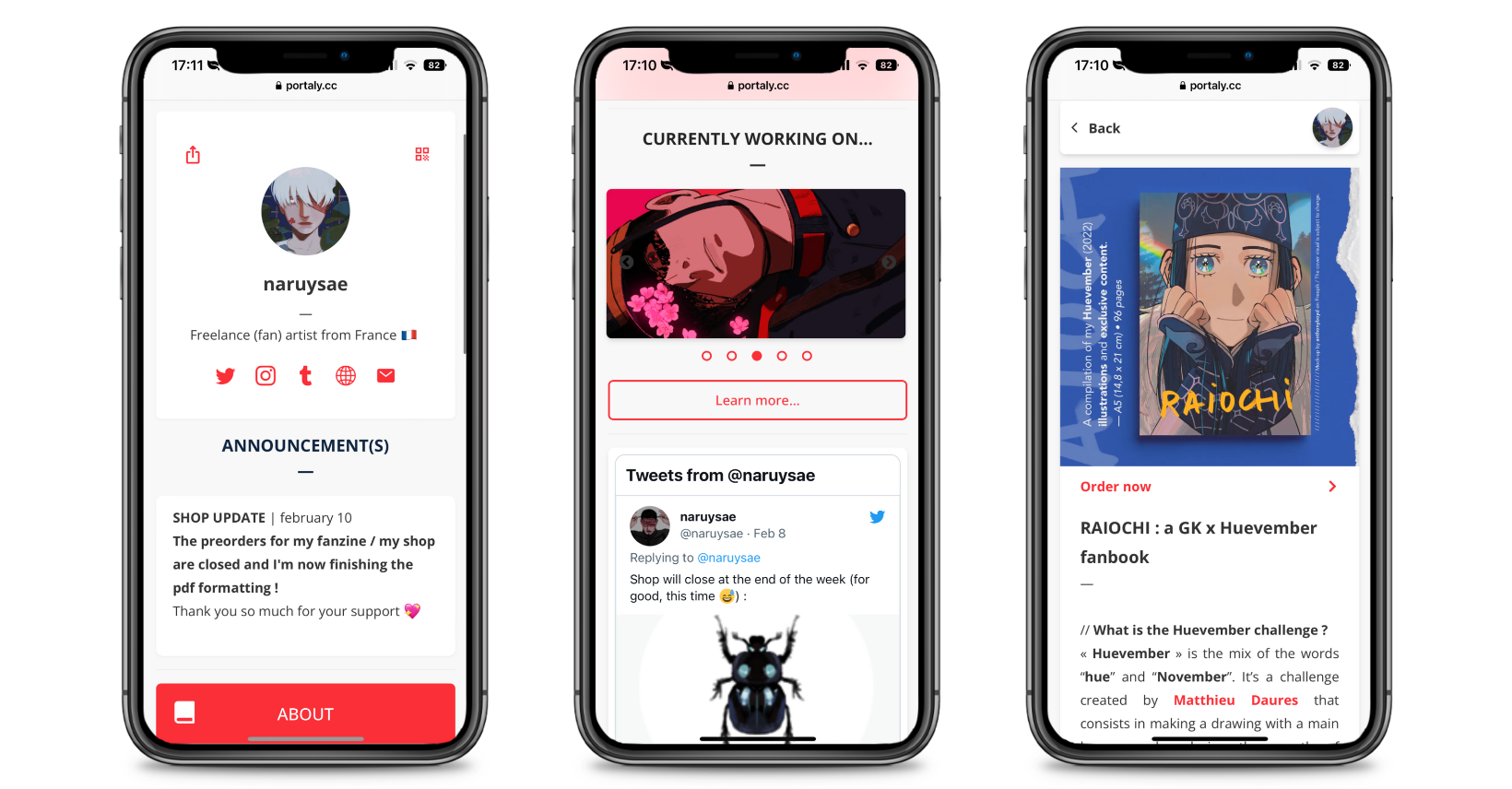 Another thing worth mentioning is the functional subpage. As you can see on Naruysae's page, if you click on the 'contact' button, you will open a built-in form designed by Portaly that helps you to collect contact information. 
(Read this article to find out How to Add Subpages to Your Link In Bio Page with Portaly)
Portaly simplifies collaboration management by centralizing all invitations and requests in one easy-to-access form, directly within your Portaly bio page.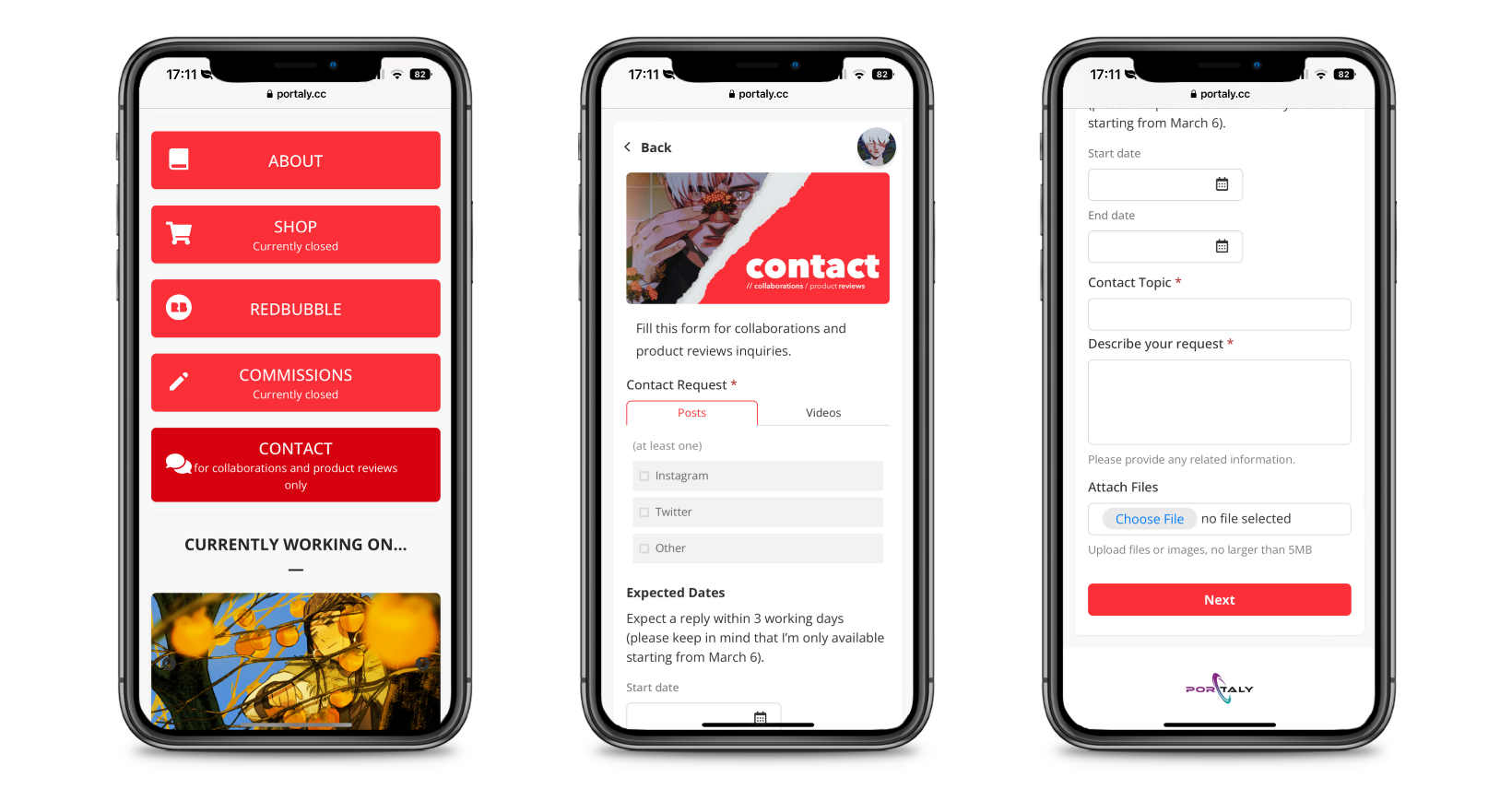 ---
At Portaly, we are passionate about supporting creators, and that's why we have designed all these tools wholeheartedly to help you visualize your brand with your own creativity.
With all the benefits highlighted, it's no wonder that you may feel inspired to start crafting your Portaly bio page immediately.
You can get your early access here for free: https://ref.portaly.cc/official
Or try on the demo page without registration: https://demo.portaly.cc/
Or look for more examples: https://portaly.cc/official
Engage with Portaly