Welcome to Portaly – The ultimate Link in Bio you asked for
Portaly is a online bio builder made to help you organize and present the very best of yourself or your business through a single, dynamic page. We offer life-time free accounts that lets you create an engaging experience for your audience.
With a full set of 30+ building blocks and integration widgets, Portaly can easily let you visualize and customize your page within minutes, also adding dynamic gifs, audio files, videos, image galleries… in seconds. Here's an example
This article's goal is the full guide to help you fully understand what Portaly offers our users, and how you can start building step by step.
---
---
Getting Started
To start, we recommend creating a Portaly account in a different tab and following along as we take you through the process step-by-step. We have AI assisted mode and classic manual mode to choose from.
We will go over the functions of your Portaly home page. Follow the steps, and you will be able to create a dazzling page in no time!
Your Profile Block
Your Profile Block is the first thing people will see and is the most important block on your Portaly page.
Editing your profile block allows you to not only edit your profile image, bio, and social media links but also lets you choose your theme color palette.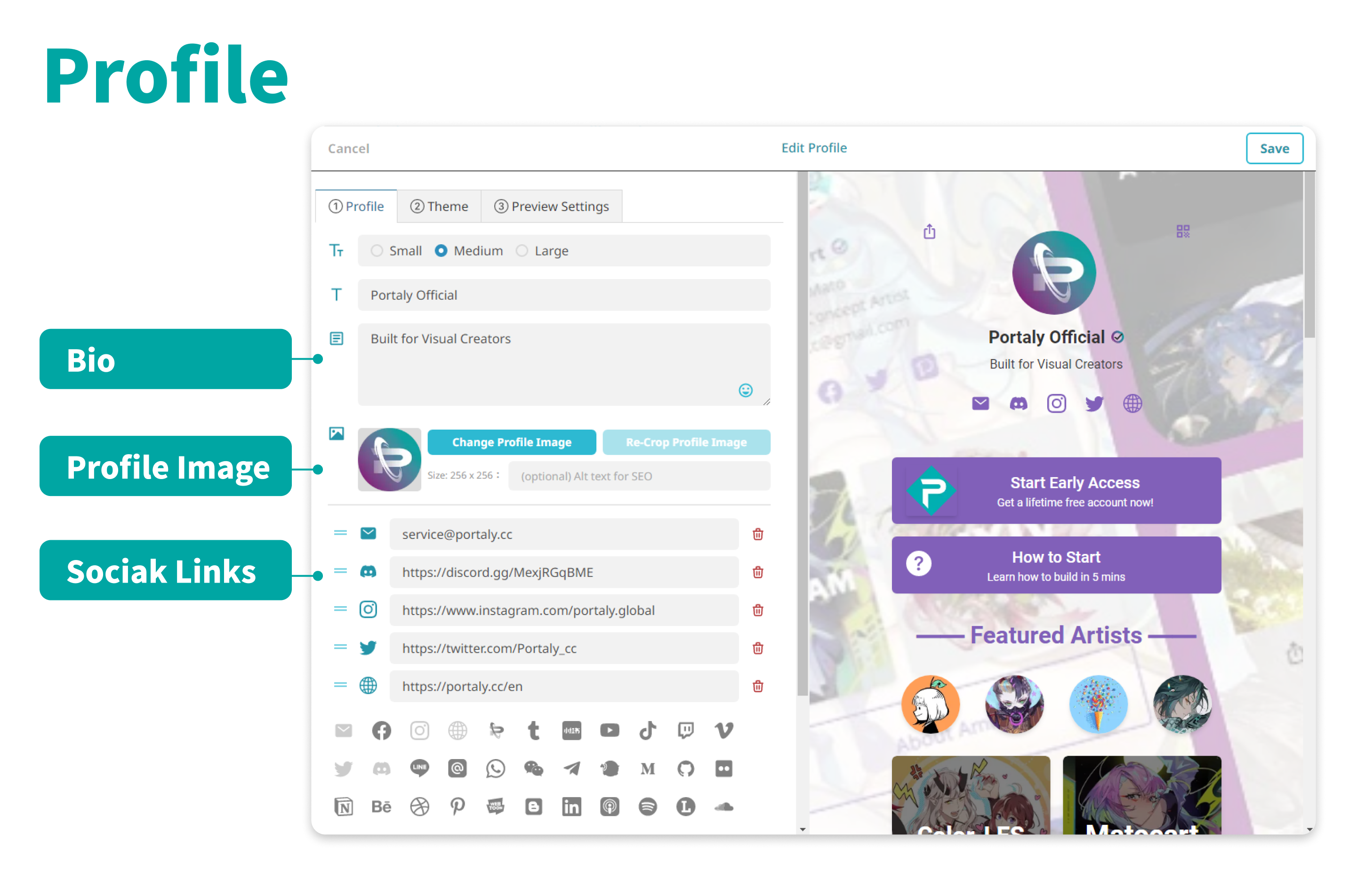 Theme
Your selected theme's color palette will be used throughout your entire Portaly page.
You control every block on your Portaly page. Don't feel pressured to choose a theme now because you can change your theme whenever and as many times as you want!
You're also able to freely change the font. We encourage users to explore themes after uploading image, video, and other multimedia blocks. The right background theme can really help highlight and emphasize your page.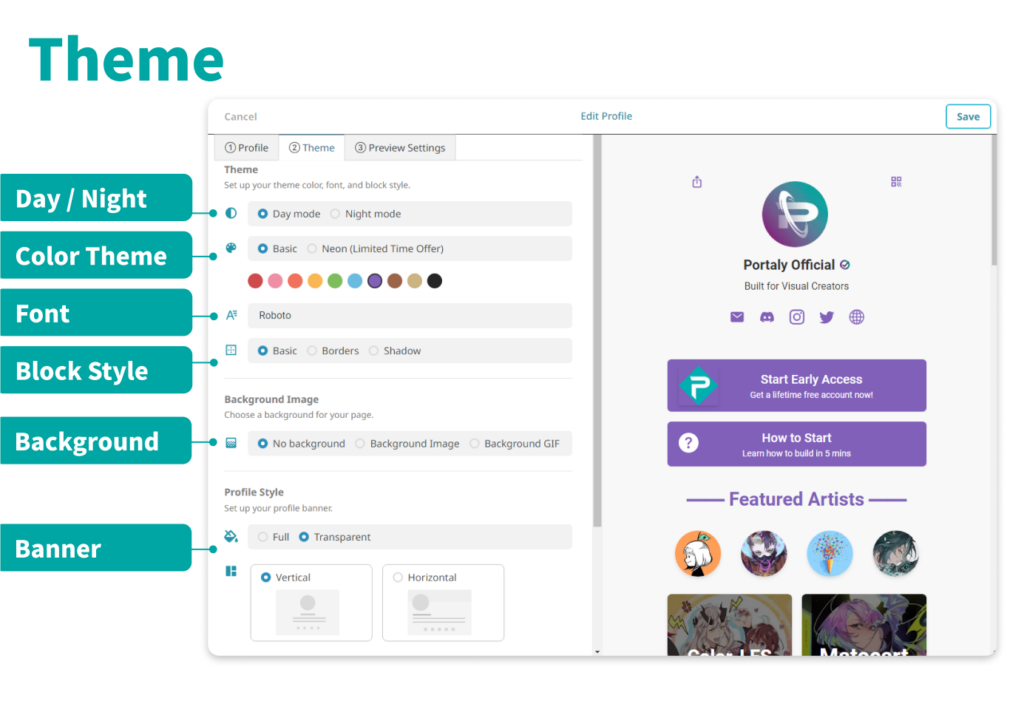 You don't know the power of the Dark Side!
Don't want a white background? Try Portaly's night mode to give your artwork an added umph!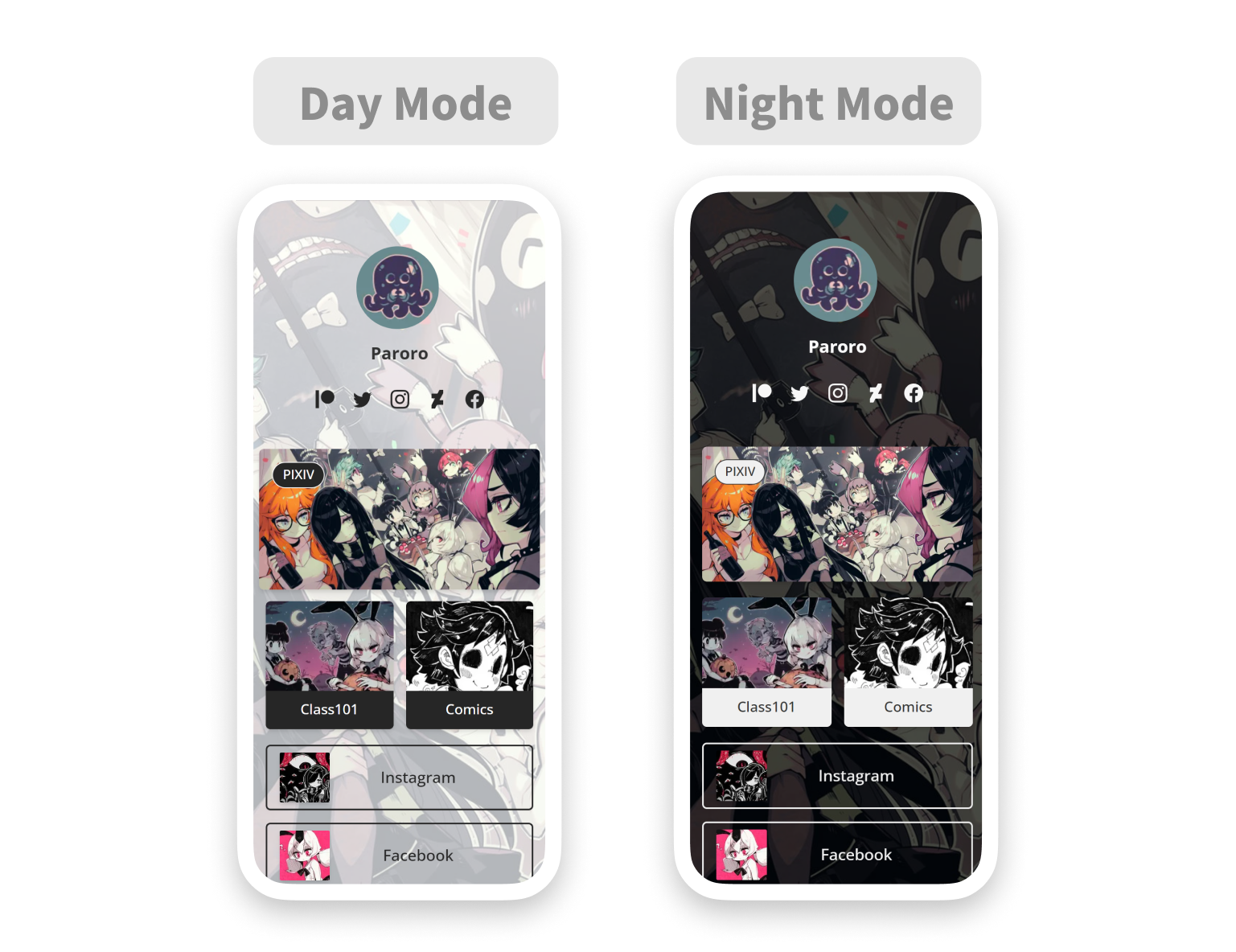 Customized Thumbnails for Facebook and Instagram
In the Preview Setting, control how thumbnails look when you or anyone else shares your Portaly page! Portal lets you choose the image, title, and snippet text that best suits you. Unsure? Well, we also let you see a preview of what your shared links look like!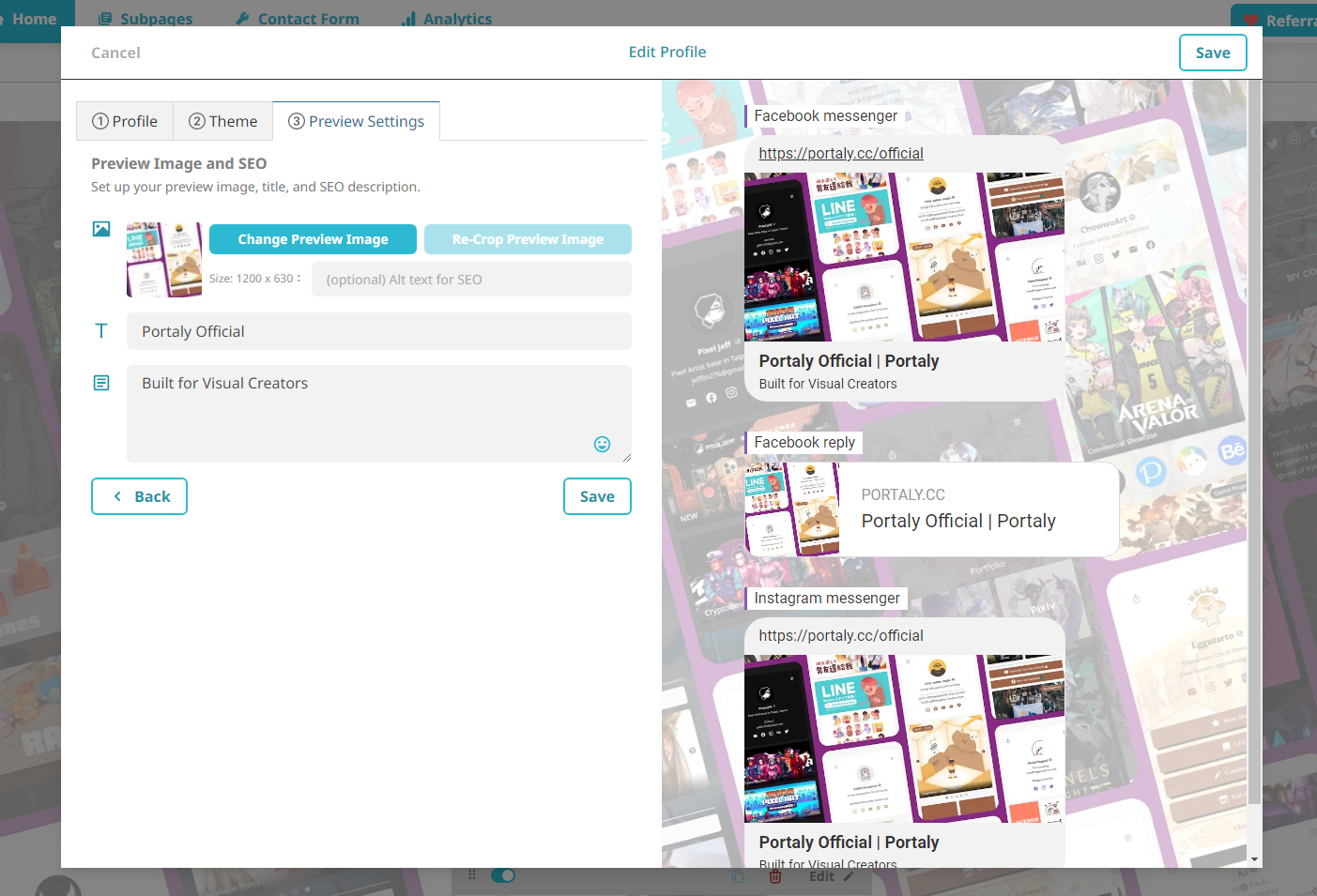 ---
Build Your First Block on Portaly
Your Portaly page is composed of "building blocks."
In Portaly, we provide a Drag & Drop building style for users to customize your pages. Your profile block is the most important of them, but don't stop there!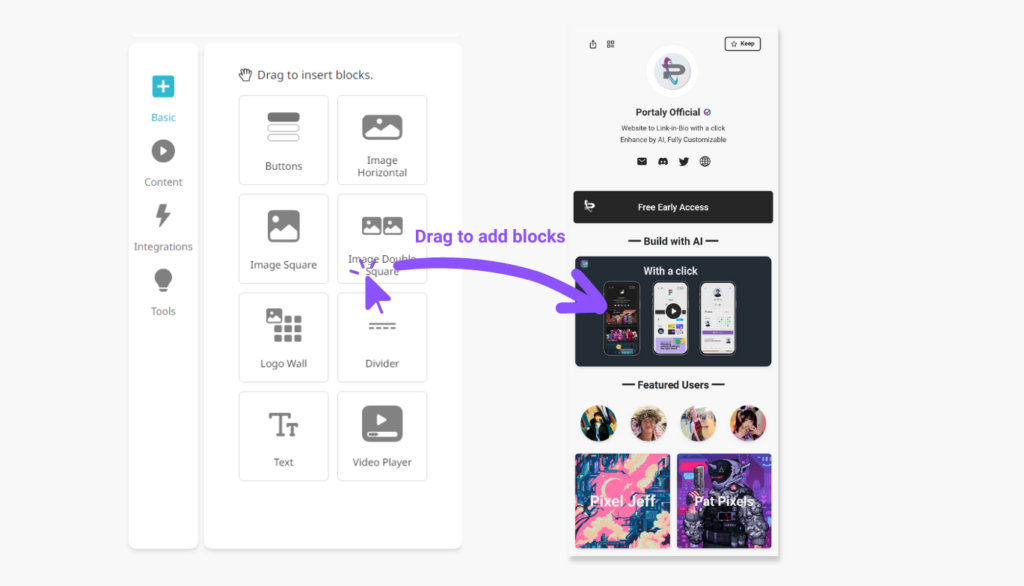 Each block corresponds to different content: images, image gallery, buttons, gifs, audio files, and even video!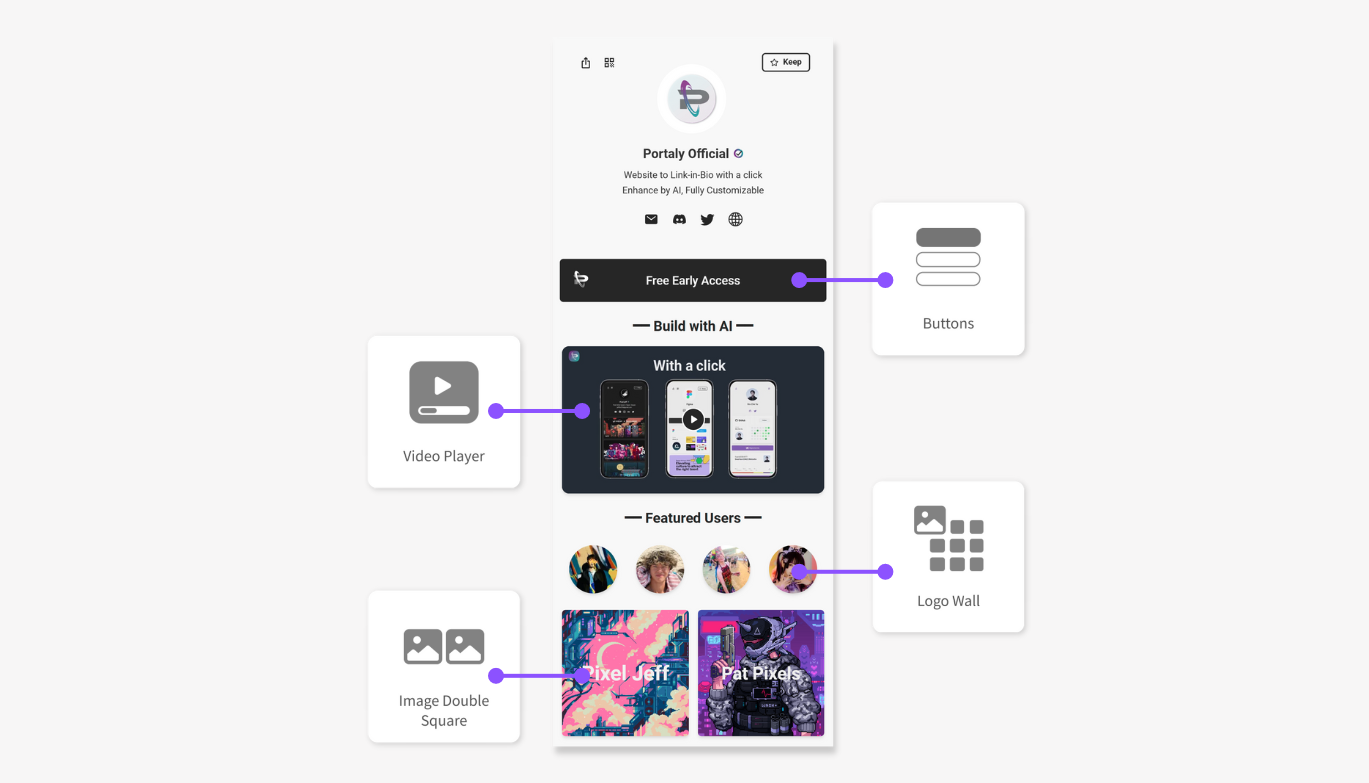 And we have even more kinds of blocks currently in development! Be sure to follow us on Twitter to stay up to date on all our future release notes!
Button Blocks
The most basic block. As long as you can enter text and hyperlinks, you can generate buttons. Portaly even offers button animations for that extra umph.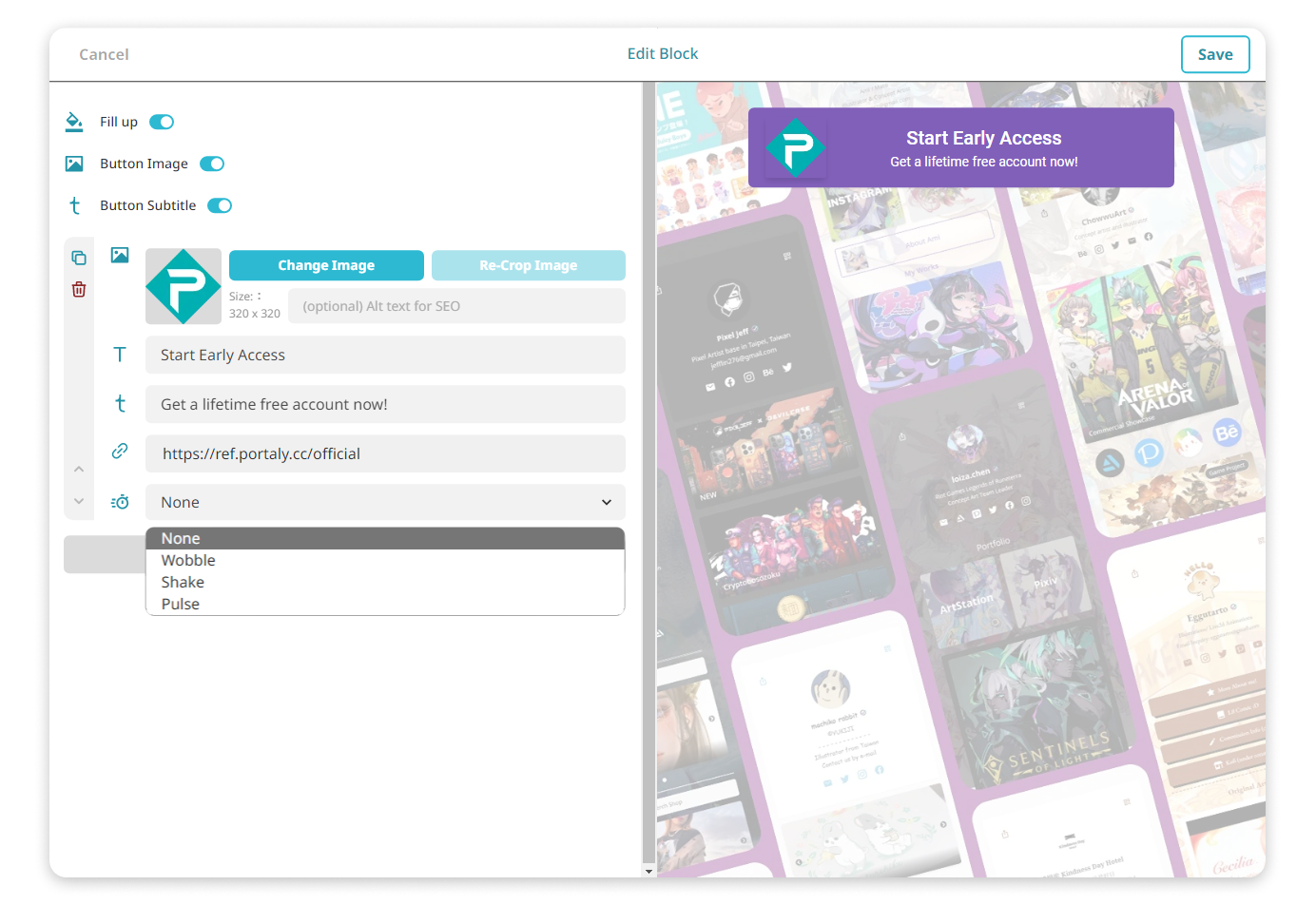 Image Blocks
Our most popular block! Image blocks come in several formats including 1:1, 2:1, double 1:1, and a logo wall.
You can add even more images to your Portaly page with our carousel feature. Image blocks can have their own unique label, description, and embedded link!
But why stop with just still images, image blocks can even handle gifs!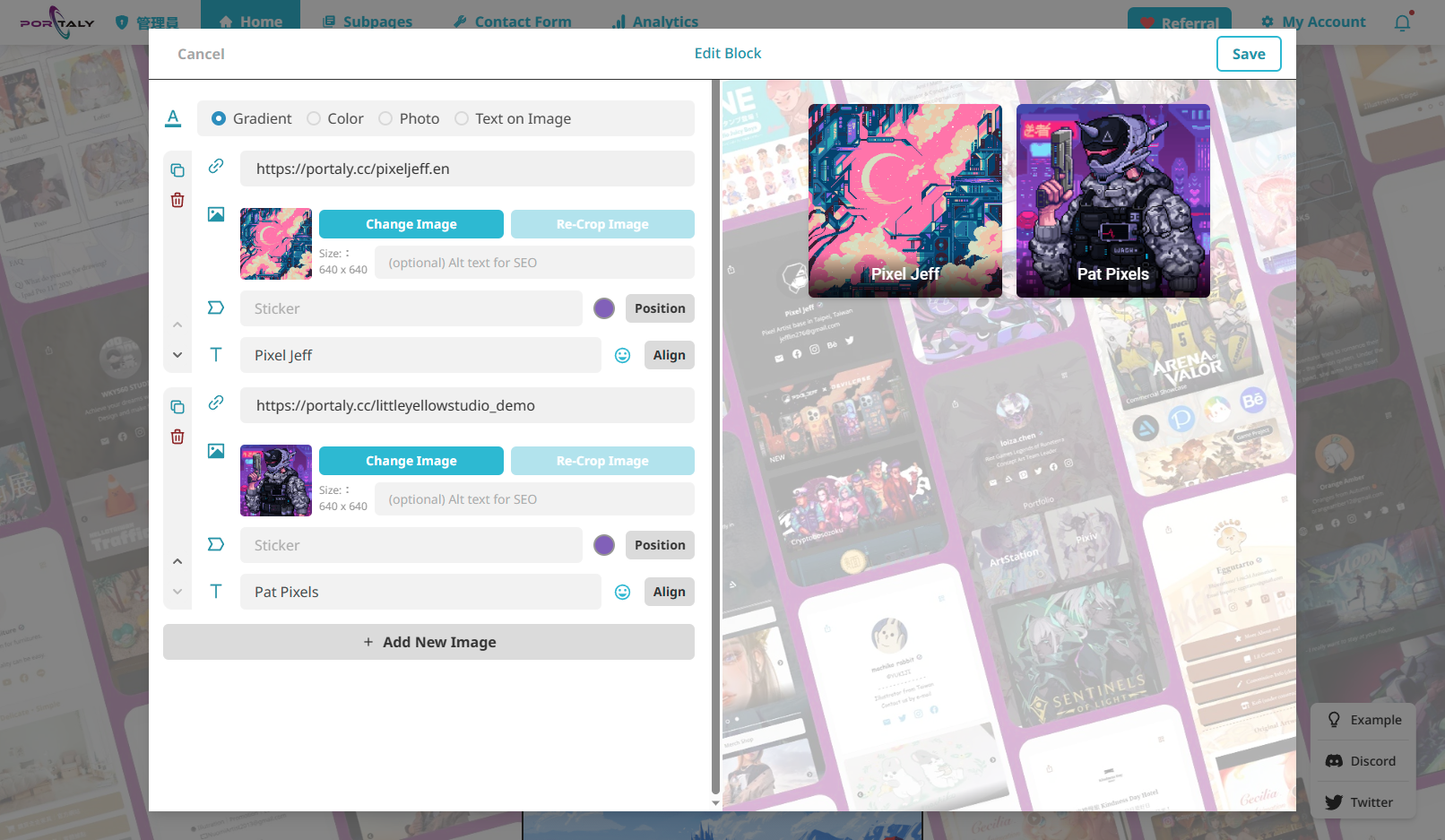 Portaly uniquely offers video and audio buttons! Add videos from YouTube, Vimeo, TikTok, or Twitch! You can even share your favorite Spotify or Apple Podcast audio files!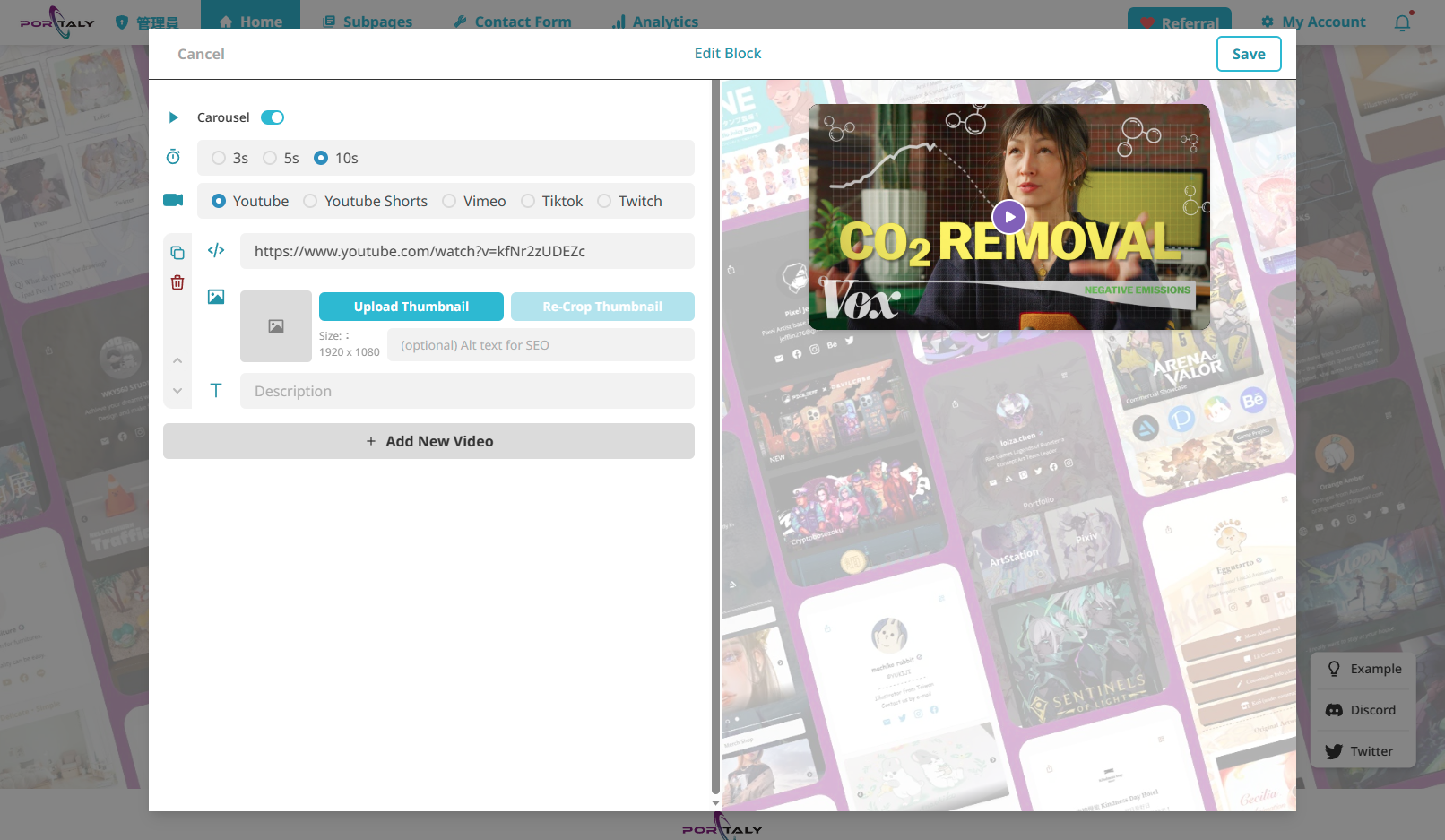 Integrations
Portaly users have spoken, we listened, and we've acted! We now offer integrations with your favorite e-commerce, patronage, or donation platform. We're always working hard on ways to make our users' lives easier. Keep telling us what you need!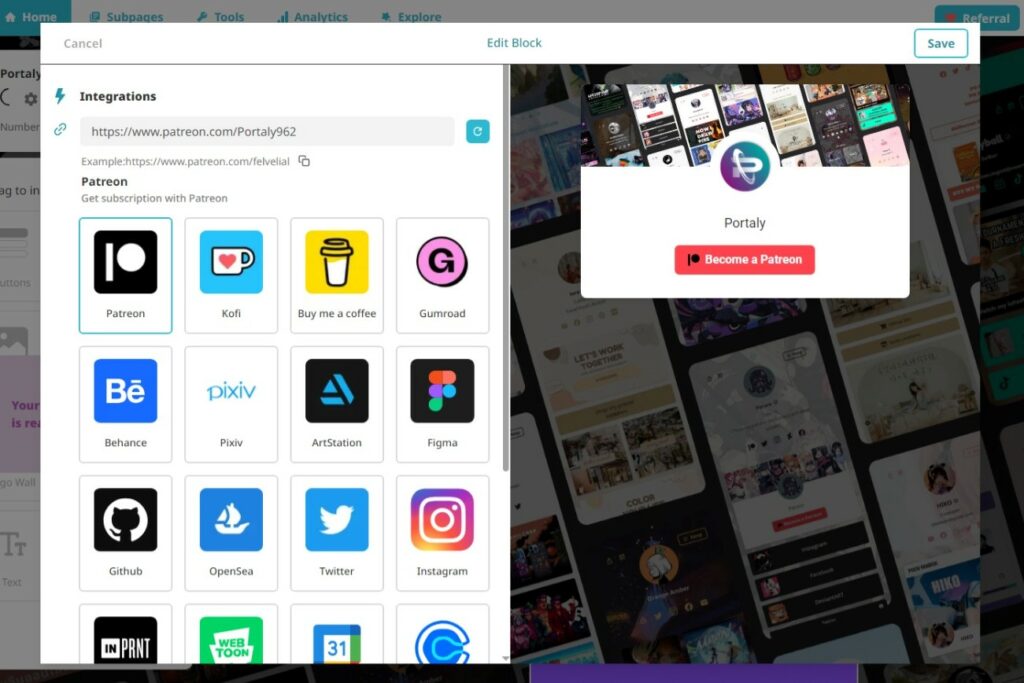 Text Blocks
Keep it nice and simple with a text block. But, we couldn't help ourselves and even offered a Paragraph feature for your Portaly text blocks!


And More…
Our mission at Portaly is to continually enhance our product, ensuring an engaging experience for your audience. Stay tuned as we have plenty of new features and building blocks on our roadmap!
Engage with Portaly